Chicago Police Superintendent Jody Weis announced yesterday that the CPD would be providing free safety alerts, crime trends, and CAPS meeting info through Nixle.com. According to the Chicago Tribune, Weis stated, "We're just trying to get as many ways out there that you can look at what's going on at the Police Department."
Excited at the prospect of more accessible data about crime and safety issues, I signed up for the service this morning and received my first alert later this afternoon. It had this text at the bottom.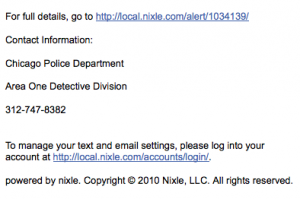 That last line, which claims Nixle, LLC owns the copyright and has "all rights reserved", is both confusing and troubling. The information contained in the alert was provided by CPD and, unless Nixle.com is actually creating the text of each one, belongs to the CPD and the residents of Chicago. It's possible that Nixle.com has hired the CPD to create alerts for their customers and as such would own that work product, but given that the service is entirely free I find that hard to believe.
I hope to confirm this soon, but it's reasonable to assume that the CPD is paying Nixle, LLC to provide this service to Chicago – which is a mistake. EveryBlock.com already provides the same service, and had the CPD asked them for help I'm certain they would have provided it, for free. The CPD should have simply created a set of feeds (would have taken them all of one afternoon to set up) and let others handle delivering that data to consumers in new and interesting ways.
As it stands now, there is no way to access the data outside of Nixle and – if the footer of the e-mails are to be believed – no way to legally use any of the content. So much for the concept of government-as-platform and Weis' goal of getting information out there in "many ways".
—–
Updated:
Hugh's comment prompted me to review their TOS. From their site's Consumer Terms:
Intellectual Property Rights
All text, software (including source and object codes), visual, oral or other digital material, photographs, information, data, graphics and all other content of any description included in the Services, including any Communications, (collectively, the "Content"), and all copyrights, trade marks, service marks, patents, patent registration rights, trade secrets, know-how, database rights, and all other rights in or relating to the Services and the Content (collectively, the "Intellectual Property") are owned by us or by our licensors, and are protected by copyrights, trademarks, service marks, international treaties or other proprietary rights and laws of the United States of America ("U.S."). The Services and the Content are also protected as a collective work or compilation under U.S. copyright and other laws and treaties. No Content or Intellectual Property may be copied, modified, published, broadcast, or otherwise distributed without our prior written permission.

You may only use the Content, the Services, or the Intellectual Property as expressly permitted by these Terms of Service and for no other purposes. Any reproduction permitted under this Terms of Service must contain the following notice: "Copyright 2009 Nixle, Inc. All rights reserved."
And, from their Agency Terms:
As a authorized user of Nixle, you are granted a personal, nonexclusive, nontransferable, non-assignable, revocable, limited license to access and use the Web Site, Services and Content for Authorized Use only and not for commercial purposes. "Authorized Use" means your use for non-profit or informational purposes, but DOES NOT include (a) using the Content, or parts of the Content, to create your own database for the purposes of communicating with Recipients without using the Nixle Services…
and,
You may not use any robot, spider, other automatic device or manual process to monitor or copy the Content. Any violation of the foregoing provisions constitutes unauthorized use and may result in immediate suspension or termination of the Services, as well as civil or criminal liability.
They are clearly asserting copyright over the content that is created by the CPD and going so far as to assert that the CPD is prevented from sharing any of this data directly with anyone outside of Nixle.com. I wonder what AG Madigan will think of this policy in light of her recent FOIA work.
Looking forward to the details showing up on www.citypayments.org.